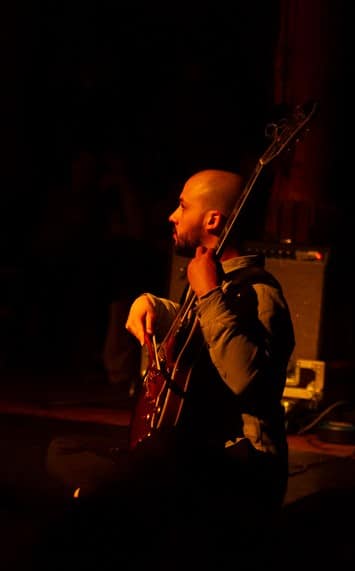 Volodia Lambert
Double bass
Musician and eclectic creator from Île-de-France, playing with jazz, classical, rock, or even free improvisation as well as transdisciplinarity, Volodia Lambert officiates as much as a double bass player, notably within the Wilfried TOUATI quartet (second prize for soloist and first prize for composition at the Sunside 2018 trophies, release of the first album "Voyage" in 2021), as guitarist of the modern jazz quintet Eyeha and the progressive rock group Cinétiqua benefiting from group support in partnership with the CRR of Cergy and the Vauréal forum for the release of his 2nd EP "Crossing borders", following "Moonrise on Ayaros". The association "Le Grand Mélange" gave him the opportunity to revisit the repertoire of the musical "Hair" as an electric bassist.
As a native of the South of France, he began his musical apprenticeship during his adolescence with the practice of guitar and jazz before adding that of the double bass.
He participated in his native region in various projects with varied aesthetics, such as rock fusion with the ARR Experience, jazz with the Antoine FAVENNEC quartet, or even more classical music with the Orchester des Pays d'AIX or the Opéra de Marseille.
He also had the opportunity to perform with the Araxe-Sassoun ensemble, residing in Marseille within the Armenian Youth of France.
Wanting to perfect his training, he joined the CRR 93 in 2016 and obtained a DEM in jazz guitar (with Claude Terranova, François Laizeau and Pierre-Olivier Govin) and classical, as well as writing, while attending the class of free improvisation. He then continued his DEM in classic double bass by entering the Pôle sup'93 in the same discipline. He followed Vincent Ségal's jazz workshops.
He is currently pursuing a double training in the Certificate of Aptitude at the CNSMDP to become a double bass teacher as well as a teacher in generative improvisation.
Outside of his studies and concerts, he dedicates himself to pedagogy as a teacher of double bass, classical guitar, and improvisation at the CRR Reims.