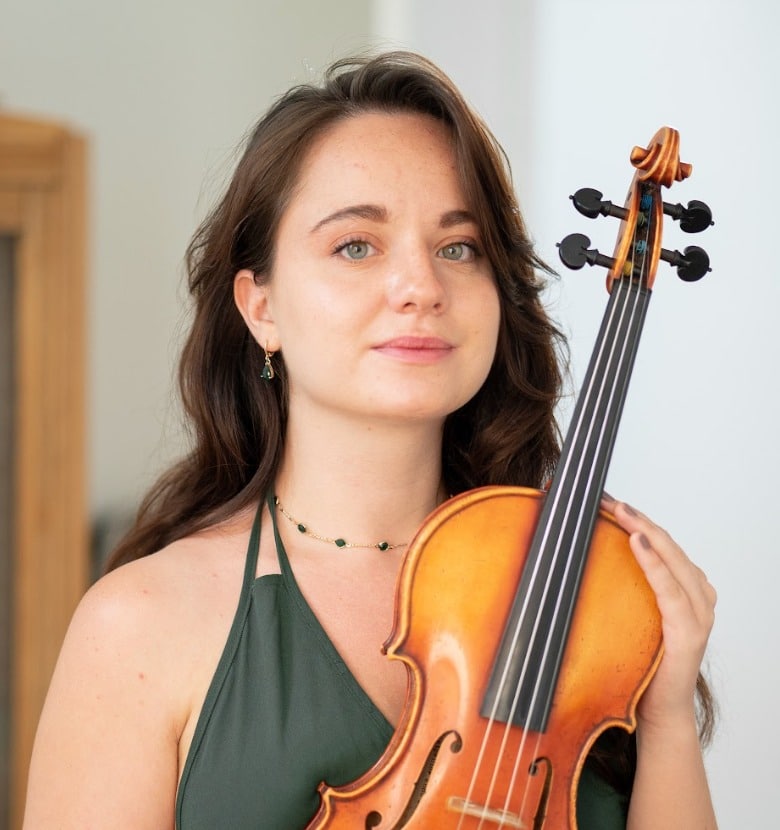 Fanny Boucher
2nd violin
Fanny Boucher began her musical training at the age of 5, first as a violinist and then, later, as an oboist. It was ten years later that she discovered her vocation. While participating in a concert, the energy of the orchestra performing the Polovstian Dances marked her deeply and led her to devote herself to the violin and to orchestral practice. Later, she joined Gilles Henry's class at the Conservatoire à Rayonnement Régional de Rueil-Malmaison, which helped her join the Orchester Français des Jeunes for two consecutive years.
In 2017, Fanny passed the entrance exam to the National Conservatory of Music and Dance in Lyon and joined the class of Vladimir Nemtanu. For three years, Fanny performed in several orchestral groups, such as the Académie Musique en Ré or the Orchester de Chambre de Lyon. She also had the chance, during the Académie Musique en Ré, to perform part of the Sibelius concerto as a soloist.
Formed by Vladimir Nemtanu, Fanny then joined, in 2020, the class of Marc Danel, with whom she undertook to finish her master's degree. Fulfilling more and more in orchestral music, Fanny multiplied the replacements within several orchestras, such as the Orchestre national de l'Opéra de Lyon, the Orchestre national de Lyon, the Yellow Socks Orchestra, the Orchestre national de Cannes, the Pocket Symphony, the Ose Symphony Orchestra, and the Festival Musique en Ré Orchestra. She also had the opportunity to play as supersolist and co-solo violinist with the Orchester Métamorphose and the Fabrique Opéra to perform the opera La Traviata on tour. She also had the chance to participate in certain musical events, such as the Easter Festival of Aix-en-Provence, the International Festival of Lyric Art of Aix-en-Provence, the Berlioz Festival, or the Festival Musique en Ré.
In 2021, Fanny was honored to participate in a charity concert aimed at helping people with bipolar disorder. She played as a soloist in Prokofiev's first concerto for violin and orchestra, in the Salle Gaveau. Since then, she has continued to be called on as an extra musician for many concerts by several of the same international orchestras.