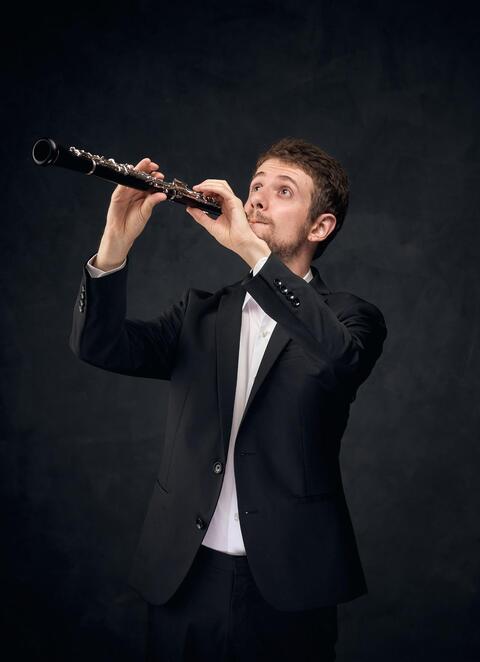 Alexis Peyraud
Oboe
Born in 1998, Alexis began his musical studies on the oboe at the age of 7 with Céline Morandeau at the Villiers-sur-Marne music school. Four years later, he entered the CRR in Saint-Maur-des-Fosses, where he also studied for four years, before joining the CRR in Paris in 2013. In 2018, he was accepted into the Conservatoire National Supérieur de Musique et de Danse de Paris in the class of Jacques Tys, David Walter and Frédéric Tardy, from which he graduated with a Master's degree in oboe in 2023. He also joined the advanced writing cycle, where he studied harmony with pianist Yves Henry and arranging with Cyrille Lehn.
As an orchestral enthusiast, he performed with a number of orchestras (Orchestre national de France, Orchestre national de Lille, Orchestre Philharmonique de Radio-France, etc.). In March 2022, he was appointed 2nd oboist playing the English horn in the Orchestre Philharmonique de Strasbourg, a position he still holds today.
Alexis is an eclectic musician and has been interested in improvisation and composition from an early age. Eager to broaden his horizons and play a wider range of musical styles, he also plays the keyboard and electric bass, and was a bassist in the jazz-fusion/funk group Chicoco. With Chicoco, he played in parisian venues such as Les Disquaires and L'Etage. To perfect his jazz oboe playing, Alexis studied at the jazz department of the CRR of Cergy-Pontoise with jazz oboist Jean-Luc Fillon. During this course, he performed as a soloist with a group at the Sunset-Sunside in Paris, playing a number of jazz standards.
Wishing to showcase the potential of the oboe and English horn in this aesthetic, he is currently working on a project based on his own compositions.